Back to Main Page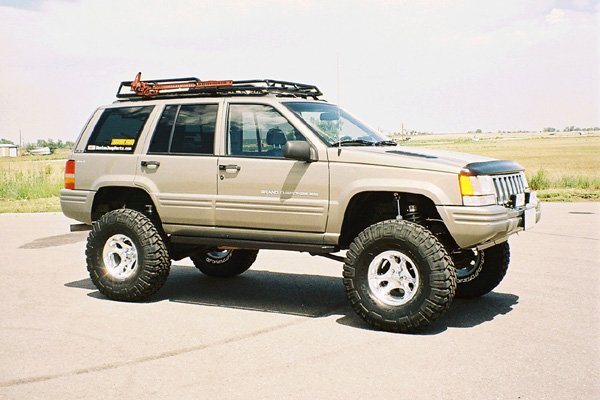 After several months of research, I decided on the 7" long-arm kit from KevinsOffRoad.com. This kit put together everything I needed to safely raise my ZJ and give me some serious articulation capability, including the longer control arms, an adjustable track bar, coil springs, and longer shocks. Since I wanted to make sure everything was done just right, I took a week off from work during August '04 and went down to Arizona to have Kevin and his crew do the install. I must say, the guys did an absolutely incredible job, and the Jeep looks AWESOME!! After I got back to Colorado, I threw on some Goodyear MT/R 35x12.5x15 tires and Eagle Alloy 15x8 wheels from 4 Wheel Parts. I still can't believe how smooth it drives. Since the time of the install, I've had it out on the trail many times, and the difference the long arm kit makes is unbelievable.
My biggest concern with lifting the Jeep was that I could develop death wobble. I was already a little paranoid about this given that my old 3" lift and track bar bracket setup would occassionally shake going over bumps in the road. I'm pleased to say that I've NEVER experienced anything that even HINTS at binding with the current 7" lift! I attribute this to the design of Kevin's adjustable track bar and the overall quality of the lift.
Another concern I had had with doing the lift was that I could develop vibrations in the drive line given that I would be changing the agles so much. Initially I didn't notice any with the lengthened rear drive shaft when I had it in by itself. However, once I put the front one in I began to have some grinding vibrations intermittently, especially when going down hills. I had hoped the custom Tom Wood's double-double carden front drive shaft would help me to avoid this. For a while I thought that maybe it could be a bad front bearing, but even after swapping out the transfercase and putting in a high pinion axle, it still vibrates when the front is engaged. As a result, I've learned to keep it in 2WD with the front disconnected so that the front drive shaft doesn't spin when I'm driving at highway speeds (this requires that you have either a "disconnect axle" or locking hubs).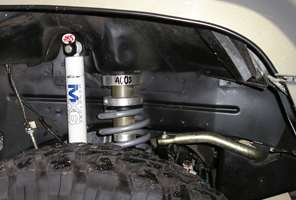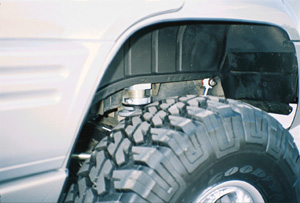 The picture above on the left shows a good view of a Pro Comp MX-6 shock with a JKS upper shock conversion, an ACOS, Rubicon Express coil spring, heavy duty Addco sway bar, and extended brake line. In the photo on the right, you can see a custom (trimmed) ACOS.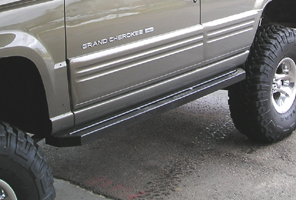 These are the Rock Sliderz I bought from Kevin when I was in Arizona, and they are SOLID! Now I can use my High-Lift jack without having to worry about destroying my rocker panels and doors. They also function as a step so I can get at things on the roof. Since they hug the body, they minimizing ground clearance loss from having the extra hardware there. Between the 7" lift and the bullet-proof rocker panel protection, there isn't too much out on the trail that gets in my way!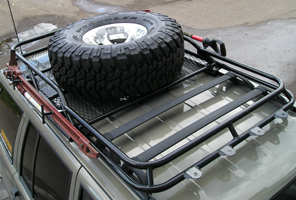 Kevin also makes a very sturdy yet stylish roof rack, and it comes with tire, shovel, and jack mounts. I have a CB antenna on one of the rear light mounts. The front light mounts are empty for now. Even though it is low profile, I have to go without it if I want to park in my town home garage. Bummer!