Back to Main Page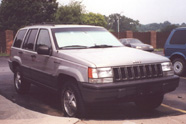 I bought my first ZJ ('93-'98 Jeep Grand Cherokee) from a Jeep dealership while going to school out in Des Moines, Iowa in 1999. It was a used '95 6-cylinder Laredo with about 60k miles. I initially had been planning to pick up a new or used XJ (Cherokee) but found them to be a little short on headroom. Just for kicks I test-drove one of the ZJ's on the lot - and immediately fell in love!
After I bought my Jeep, one of the first things I did was to put on some larger tires. The ZJ came stock with 225's (27.4" diameter) and I figured 29" should fit quite nicely. My ride now sat a little higher and looked good with the new all-terrains I had picked out.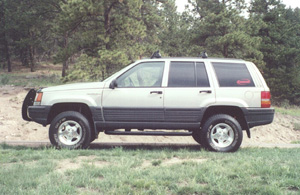 It didn't take long before I began wanting more, though. Now living in northern Ohio, I talked to the local 4x4 experts at Cleveland Offroad. They suggested a lift kit. I picked out the Rancho 3" lift and had the shop guy there install it (I only had experience changing oil and plugs, and I wanted a professional working on the suspension). Instead of doing the Rancho shocks, I had them put in some Edelbrock EAS performance shocks. My Jeep was in the shop for about a week, but the wait was definitely worth it. With the extra room, I could also easily fit 30" tires. I also traded in my old style stock wheels for the newer, flashier ZJ stock mag wheels.
During all this I did a little accessorizing. I ordered a brush guard during the first year from Smittlybilt, which only added to the "mean" look my ZJ had begun to assume. I liked their product, and they had great customer service. So when I decided to add some rocker panel protection a year later, I again turned to Smittybilt. I also picked up a Yakima roof rack and Hi-Lift automotive jack. After that I threw on some mud flaps from the Jeep dealership, and a friend helped me install a kickin' Clarion head unit with remote EQ and Alpine amp to power my JBL speakers and Bazooka bass tube.
Having finished up my stuff for school in Iowa and Ohio, my wife and I moved back to our home state of Colorado. This turned out to be an excellent opportunity for me to try out my lifted suspension and larger tires. I began to notice that the 30" tires just weren't big enough to clear some of the trail obstacles though, and I could see that I had more room. I went to Performance Wheel & Tire and asked them to give me 31's. The guys there were absolutely convinced that they wouldn't fit. I had them put on anyway, and wouldn't you know it - I still had a little more room! I also ordered some custom spacers to give me another 1.5" of backspacing and a broader stance. A month later I was back, trading in my 31's for some 32x11.5x15 Mickey Thompson tires. Oh yeah!



ZJ build, continued