Back to Main Page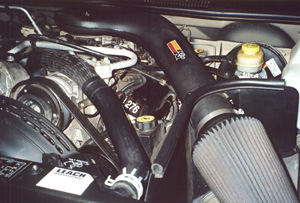 Over the next several months I spent my Jeep allowance on maximizing the engine performance. I started with a K&N Fuel Injection Performance Kit (FIPK) from 4 Wheel Parts, which not only added a little more "umph" to the acceleration, but also made the engine roar more loudly. After that I threw in some Bosch performance spark plugs as well as Accel performance wires, cap & rotor, and coil. These made a subtle but noticeable difference. After saving up a few more months, I had the experts at Exhaust Pros in Commerce City (these guys are AWESOME!) install the Nick Kolak exhaust system comprised of Mike Leach headers, a Car Sound catalytic converter, Flowmaster muffler, and 3" pipe. Now my V8 growled with normal acceleration, and screamed when I floored it! Finally, I put in a Mopar performance computer that I ordered on-line from Tenafly Jeep. This increased the responsiveness and also seemed to allow the rpm's to run a little higher before the automatic transmission shifted to the next gear.
One day during the whole engine performance upgrade process I was driving around Denver and spotted a tricked-out Grand with what appeared to be a custom vent on the hood.

Of course THAT got the wheels turning! After several internet searches and phone calls, all I could come up with were a couple of different "stick-on" (non-functional) options. I kicked myself for not flagging that guy down! (He probably would have thought I was crazy, so it's just as well I didn't.) Anyway, as fortune would have it, I saw the same ZJ again in a completely different part of Denver a couple of months later. Now more educated, I realized that he had a cheesy stick-on vent. Despite the sporty look, I just couldn't bring myself to pose like that! Then one day I ran across an article on the NAGCA web site on some functional hood vents - I was stoked! I ordered the vents (OEM parts off of a supercharged '86 Pontiac Grand Prix) right away.

The vents arrived a couple of weeks later, but it would be another three months before I put them on. I originally was going to have a body guy do it, but cost (and the acquisition of a new air compressor and some air tools) led me to do it myself. Keep in mind, this was my first attempt at sheet metal body work EVER! After HOURS of measuring and re-measuring, I decided to proceed. I almost had a heart attack as I applied the compressor-driven high-speed cutting tool to the hood of my baby! After the first cut was made though, I really started to get into it. I smoothed out the edges with a die grinder and drilled some holes for the vent bolts. I'm glad I spent the time in the beginning, because the result was truly outstanding. Everything measured out perfectly when the job was done, and I don't think a professional could have done a much better job - although they probably would have been a lot quicker! ;) In addition to allowing more air get to the engine, the stylized hood really gave the ZJ more of a custom look.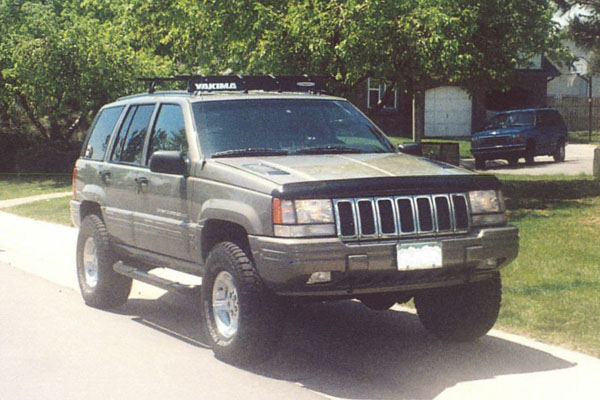 ZJ build, continued